Flanged Bushings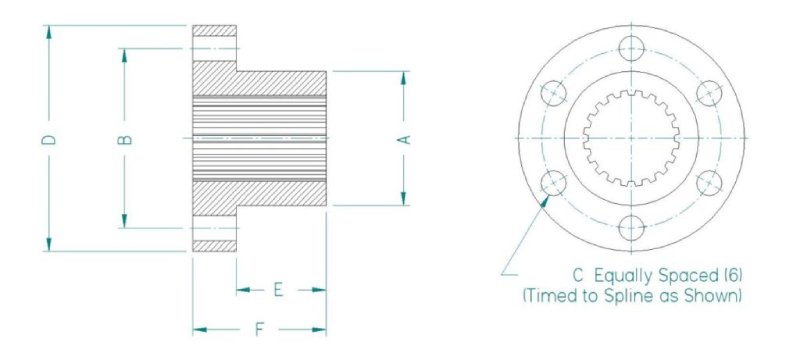 | Grob Part Number | (A) Hub Diameter | (B) Bolt Circle Diameter | (C) Bolt Hole Diameter | (D) Flange Diameter | (E) Hub Length | (F) Overall Length | Mat'l | Specs and CAD Link |
| --- | --- | --- | --- | --- | --- | --- | --- | --- |
| FB-0750-16-2 | 1.124 – 1.125 | 1 1/2 | 13/64 | 1 7/8 | 3/4 | 1 1/8 | Steel | View Specs & CAD |
| FB-1000-16-2 | 1.499 – 1.500 | 2 | 17/64 | 2 1/2 | 1 | 1 1/2 | Steel | View Specs & CAD |
| FB-1312-20-2 | 1.968 – 1.969 | 2 5/8 | 21/64 | 3 1/4 | 1 3/8 | 2 | Steel | View Specs & CAD |
| FB-1687-20-2 | 2.530 – 2.531 | 3 3/8 | 15/32 | 4 1/4 | 1 11/16 | 2 1/2 | Cast Iron | View Specs & CAD |
| FB-1875-20-2 | 2.811 – 2.812 | 3 3/4 | 17/32 | 4 3/4 | 1 13/16 | 2 3/4 | Cast Iron | View Specs & CAD |
| FB-2625-30M-4 | 3.436 – 3.437 | 5 1/4 | 21/32 | 6 1/2 | 2 11/16 | 4 | Cast Iron | View Specs & CAD |
| FB-4000-40-4 | 5.999 – 6.000 | 8 | 1 1/16 | 10 | 2 1/2 | 4 | Cast Iron | View Specs & CAD |
Spline shafts are critical mechanical components used in industrial machinery and automotive applications. The term "splines" refers to the grooves or teeth machined into a shaft, which correspond to matching splines on a coupled component. When mated with another component, spline shafts efficiently transmit torque to enable linear and rotational motion.
Grob, Inc. offers a full range of cold-formed spline shafts designed for maximal torsional strength. In addition to precision-engineered shafts, we also manufacture matching fittings to streamline assembly for clients who rely on Grob components. We craft spline shaft fittings within tight tolerances, ensuring a perfect fit and maximum contact between spline shafts and their coupled components. We offer numerous high-quality fittings:
Spline shaft sleeve bushings:  Connects two splined components of the same diameter or allows for welding or press fit in assembly.
Spline shaft flanged bushings:  Allows for a bolt connection in the spline shaft assembly.
Spline shaft custom bushings: Custom shaped parts that will interface with splines and are specifically designed for the specific application and assembly.
There are some bushings that are not splined that act like a bearing surface. These can be used to help support or hold the spline in place while allowing it to rotate with low friction. Grob Inc. does not manufacture these.
Splined Bushing
This bushing is a simple device that joins the spline to another component to transmit power or rotational energy between them or lock rotational movement. This is all done while allowing or preventing linear motion. Some spline bushings  or adapters are designed to connect shafts with different diameters.
Splined Sleeve Bushing
Sleeves are the simplest bushing. They have a simple cylinder shape that allows for reduced cost. They can be welded, pressed, or locked in place with set screws to an assembly so replacing this kind of bushing will not be as simple. The sleeve relies on its coupled part for the timing" to keep things more positive in the description.
Splined Flanged Bushing
Flanged bushings have a large flange with bolt holes that are timed to the interior spline. This allows for a simple bolt assembly that will always keep orientations between the two components even after replacement. Replacement is simple with only bolts. The flanged bushings are larger, heavier and slightly more costly than other bushings.
Splined Custom Bushing
Grob Inc. can make any splined bushing to fit your needs. These bushings can be machined and shaped for the specific application to maximize strength and minimize weight. These can also be formed with castings of forgings and other manufacturing processes to minimize costs.
Applications of Spline Shaft Bushings
Spline shafts are used across a diverse range of industry applications, typically as part of motors or engines. The shafts used in power take-offs for trucks and industrial equipment use splines and bushings to transfer rotational power while allowing for linear motion to adapt to the moving terrain. Spline shafts and fittings also find applications in other vehicle assemblies. Automotive and industrial axles feature spline shafts and bushings to connect the transmission to the wheels, as do the interfaces between boat motors and the propeller. Other general applications of spline shafts and spline shaft fittings include:
Heavy machinery, including agricultural, manufacturing, and construction equipment
Consumer goods, such as bicycles and lawn equipment
Specialized instruments for scientific research, medical treatment, and other fields
Bushings are used in all of these settings to provide a strong connection between two components while allowing for linear motion.
For questions about which bushing to choose to achieve best results, the expert team at Grob Inc. would be happy to assist you in considering your options. There is rarely a one-size-fits all solution to complex motor assemblies, which is why Grob offers a full range of custom and off-the-shelf offerings for shafts and their relevant bushings.
Considerations for Spline Shaft Bushings
Once you've determined which fittings your product requires, you can begin to consider more specific constraints. Beyond size and spline pattern, which are the most basic concerns for component compatibility, you'll also need to consider how different design options can influence your overall assembly. For example, when selecting a bushing, you'll have to choose a spline fit of flank or major diameter, material, coupling style, and length.
Fit will minimize backlash and vibration while allowing for post processing like heat treating or coating. For material selection strength and friction will need to be considered to create the best interface for the application. The team at Grob can help you identify these nuances in product selection and guide you toward the best choice for your needs.
Spline Shafts and Bushings from Grob, Inc.
At Grob, we have developed a reputation for excellence in cold forming, enabling us to produce spline shafts and fittings of superior strength, surface finish, and quality. Our stock and custom spline shafts adhere to precise tolerances, and our spline bushings meet those same standards for precision and quality. Together, these product lines offer original equipment manufacturers the exact components necessary to craft high-performance assemblies.
To learn how Grob's unique cold forming capabilities can improve your product's performance, contact our team today. We'd be happy to answer your questions about our catalog or discuss options for custom spline shafts and fittings.